---
Diary Entry
Scotland – These are rugged coasts and secluded valleys of intoxicating beauty, a national drink of no less intoxicating effect, and with Edinburgh a capital city that breathes history from every alleyway.
It's the first trip I'm going on with Uwe. We met a few months ago in Bonn, my new home, and we hit it off right away. We also realized that we have two things in common: a love for travel and a penchant for good whisky. It didn't take long before the study trip to the world's best distilleries was planned and carried out.
I'm considering adding another friend as backup. I haven't known Chris for long and more through his new ex-girlfriend. He's sort of my mentor in the whiskey world, a great guy I'd love to keep in touch with and I think is in the best place for a decent distraction right now. And if my knowledge of human nature doesn't deceive me, he'll get along great with Uwe, I'm sure of that.
When Uwe and I make the plan clear to Chris in a Skype call, what we want to see in our time, he thinks we are crazy and the plan is impossible. But cool.
---
---
In a good mood, Uwe and I reach Edinburgh, the start of our journey. We still have a lot of time before Chris reaches the city from Frankfurt.
We use this time to move into our hotel and explore the area.
---
---
---
---
A visit to the Scott Monument is a must when visiting the city. However, this landmark does not pay tribute to the Scots, but rather to the writer Sir Walter Scott, who wrote well-known novels including Rob Roy, The Lady of the Lake and Ivenhoe. However, this author is only one of many. Either the bad weather or the good whiskey seemed to inspire many men to sit down and pick up their quills.
For example Robert Louis Stevenson, who spent 30 years in Edinburgh and wrote the legendary story of "Strange Case of Dr Jekyll and Mr Hyde", "Treasure Island" and other copies of world literature.
Sir Arthur Conan Doyle also found his inspiration for the crime novels about Sherlock Holmes in the Scottish city. Sir James Matthew Barrie wrote Peter Pan and a few years ago J. K. Rowling achieved world fame with her Harry Potter series. The author's suggestions for the names of the characters and the appearance of the legendary magic school can be found all over the city.
---
---
Of course, Uwe and I stop at the pubs first. Although it is still early noon, we must make every effort for our studies and suffer if necessary. And so we enter pub after pub and test the beers and ciders.
In a bar I am surprised about Uwe's order. He would like to have "Snakebite" and the landlord shakes his head that they don't offer that. But he agrees to put the ingredients on the table for us.
The small table in front of us is immediately full of glasses. Half a pint of ale, half a pint of cider, and a shot of redcurrant juice each. If you mix everything together you get the Snakebite. I'm excited!
---
---
I booked a hotel for us right downtown. Luxurious as I am, I immediately found accommodation for three people with breakfast. However, it turns out that two of the three people have to sleep in a double bed and that breakfast is placed in front of the room door in cardboard boxes and a lot of plastic in a completely unromantic way.
Anyway, I switch gears quickly and decide that sleeping in a double bed is the best opportunity for Uwe and Chris to get to know each other intensively. It is the beginning of a wonderful friendship full of homoerotic jokes.
---
---
---
When looking for good pubs I noticed a bar called "Jekyll & Hyde" right next to our accommodation. Based on the skulls printed on the website and advertisements for metal bands I love, I conclude that it can't be a literary café.
As well as great music, the establishment also offers a good selection of ales, ciders and whiskeys. There will also be a gothic party on this very Saturday.
The young beauties with vampire make-up round off the feeling of well-being. We drink, dance and have fun. In front of the bar, we strike up a conversation with a drunk guest who, with his kind of enthusiasm, explains to us that one of the advantages of this bar is that events there are rarely pure "Sausage Parties". The term sticks.
---
---
Edinburgh Castle towers above the city on a mighty basalt block. At the entrance we buy the Explorer Pass, which will be our faithful companion in the coming weeks. For 700 years, the great dramas of Scottish history have been played out at the castle and many sieges decided the fate of the country.
Today the Scottish crown jewels rest here and with them the legendary "Stone of Scone" on which the Scottish and later the English kings have been crowned since the Middle Ages. Even Queen Elizabeth sat with her royal buttocks on this legendary and uncomfortable block of sandstone at her coronation.
---
---
The stone, which is steeped in history, experienced an inglorious adventure only a few decades ago: on December 25, 1950, the Stone of Scone was kidnapped from Westminster by both patriotic and drunk Scottish students and smuggled to Scotland. Since it broke into two pieces when it was removed, it was secretly repaired. After it was revealed where the stone was, police recovered it and returned it to London. This is one of those typical stories that starts with "hold my beer".
The English also realized that the stone had had enough history and returned it to the Scots in 1996.
Every day at exactly one o'clock in the afternoon a cannon shot is fired from the castle, after which the ships anchored in the harbor set their clocks. Every day? Unless it's a high holiday – such as June 2, 2013, the 60th anniversary of Her Royal Highness Queen Elizabeth's accession to the throne. Too bad.
---
---
---
---
---
We encounter the typical Scottish clichés fairly quickly. Bagpipers show off their art in the house's own kilt. The finest whiskey is available in every bar. The Highlands can be glimpsed from places with views nearby. The scent of sheep and peat is almost in our noses.
Only one more piece of the puzzle is missing for our culinary happiness in this country. haggis
A brief description of how to make haggis is provided by a character from the friendly family movie "Armageddon":
"My favorite dish is haggis. Heart, lungs, liver. You shove that all in a sheep's stomach, than you boil it. That'll put some hair on your ass!"

Max, Armagaddon (1998)
---
---
---
A magnificent view of Edinburgh is offered from Calton Hill, which is enthroned by the Nelson Monument, which was erected in 1807 to commemorate Nelson's victory at the Battle of Trafalgar. A wooden ball weighing a ton on the top of the tower signals the time synchronously with the cannon shot of the castle.
The parallel is apt given that Admiral Nelson was killed by a cannonball in the head during his victory against the Armada at Trafalgar.
---
---
---
A tour of the city takes in several places that inspired J.K. Rowling to write her Harry Potter novels. From her regular seat in the Elephants Cafe she looked out over the four-towered George Heriot's School – later Hogwarts.
And just a stone's throw away in Greyfriars Kirkyard are the tombs of a certain Tom Riddle and a Mr McGonagall.
---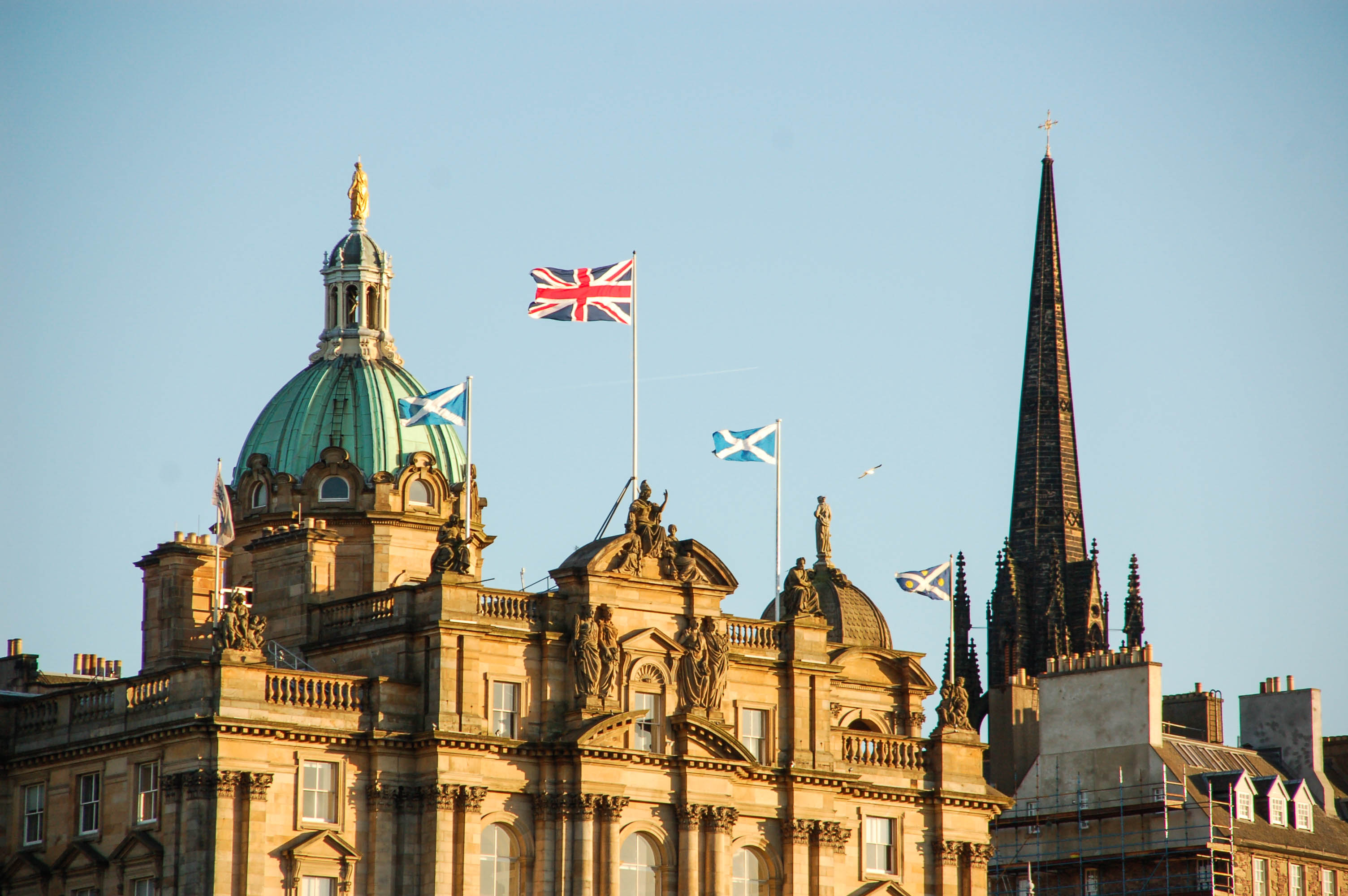 ---
Until a few years ago, the port facilities of Leith were still a seedy area and a center of drug trafficking and prostitution. Too bad, we think. Leith became famous as the setting for the novel "Trainspotting".
We limited ourselves to drinking whiskey at Teuchters Landing, where we tried our luck at the Hoop of Destiny: three tosses with the hoop – and no matter which bottle it lands on, you get a glass of it. The consolation prize is the infamous "Sheep Dip".
The last day in Edinburgh is over. We drive to the airport and get a rental car. That goes around Scotland and down to the Outer Hebrides. First, however, we start on the doorstep of the big city and visit a very unusual ship lift.
Der letzte Tag in Edinburgh ist vorbei. Wir fahren zum Flughafen und holen uns einen Mietwagen. Damit geht es nun einmal um Schottland herum und bis auf die Äußeren Hebriden. Zuerst starten wir jedoch vor der Haustür der Großstadt und besichtigen ein sehr außergewöhnliches Schiffshebewerk. – Chris & Alex
---
---