---
Diary Entry
Unfortunately we are not as lucky with the weather today as we were the days before. Yesterday, in the valley of the Drâa, it was still beautiful. It is overcast with occasional light rain. A blessing for the desert, but not for us.
Su and I take turns in the passenger seat. Today we drive in a completely different direction, towards the mountains. But first we have to go through the vast wasteland again. Here we first pass the reservoir, which has only existed for a short time. This lake supplies Ouarzazate with electricity and allows the valley of the Drâa behind it to slowly dry out in cold blood. The locks are only opened three times a year; we were lucky that the river could be seen filled with water yesterday and did not offer a view of the dry wadi.
Funnily enough, we overtake a mobile home with Ahrweiler license plate, Susanne's hometown. When we later stop for photos, the vehicle catches up with us again; we wave and the seniors from Ahrweiler wave back, not very surprised but smiling.
We then turn onto a track that led through an oasis in which barley and rice were also grown between the date palms. Furthermore, we find a huge Kasbah at a Wadi. It is a special sanctuary that was even immortalized on a 50 dirham note.
We seriously catch a day of rain in the desert
---
---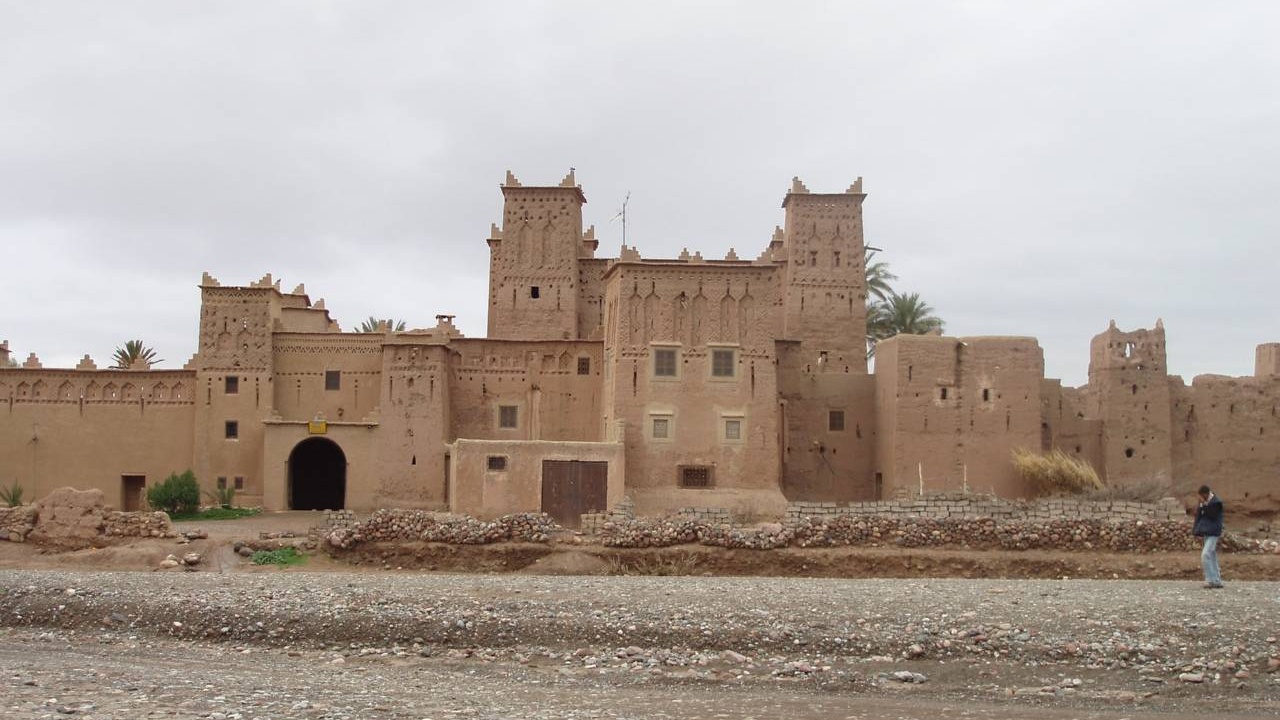 ---
---
---
---
After that we arrive at El-Kelaat M'Gouna, in the Valley of the Roses; We take a break at a prominent large boulder and have the opportunity to buy some rose water for Su's mother and to look around for other tourist items.
We'll have to wait until May to see all the flowers bloom. The sun doesn't even shine to admire the valley's usual splendor of colour.
---
---
We continue and come through lonely valleys whose slopes had the most bizarre colors. Clouds hang in it and give everything a fantastic touch.
We leave the paved road again and wind our way up a mountain on a gravel road through valleys and gorges. But now the weather is showing its true harshness and a real snowstorm set in – and that after we were in the desert yesterday in bright sunshine! This one tries to turn; When the driver sees us, he tells us that a car has already crashed on the track in front of us and that the track is no longer passable.
A rescue team is already on the way, so we have no choice but to turn around and look for another way to the gorges.
When we fought our way up to a pass and passed a broken-down minibus on the way, we had to stop because another jeep was blocking our way.
Caught in a snowstorm in Morocco near the Sahara
We slowly shimmy down the slope in the Land Cruiser and then cross a long plateau. Here we see some people herding sheep. James explains to us that these people live in small caves that they dig into the soft rock. We can also see some of these caves from the vehicle.
---
---
After some time, eventually getting back on asphalt, we meander along a gorge and reach a group of rocks called "The Monkey Fingers" because of their shape. We finally stop at a small house on the side of the road for something to eat. The house is cozy and is run as an inn, where you can also stay overnight.
The people greet us in a friendly manner and lead us into a large guest room with a large tiled stove and a fireplace. It is very beneficial to warm your limbs again. They bring us delicious bruchettes and leave us alone until we've finished eating. In between, a little sparrow appears, which comes flying through the window and hops around us begging. As soon as someone comes through the door again, the little one flees with its prey, but returns after a short time.
Our host tells us that access to the gorges has been closed due to the heavy rains in the mountains which have flooded the roads and made them impassable. My mood keeps sinking.
When we have finished eating and our hosts join us to chat, they explain that the bird has been coming for a very long time and occasionally flies through the rest of the house. And of course he always gets something.
Besides us, there is only one old Frenchman who is wandering through Morocco. He comes into the house with wet clothes and his nose is dripping.
---
---
---
We say goodbye, thank you for the friendly hospitality and leave a small baking dish. We continue up the gorge to see how far we can get. A rickety car with a German license plate also stops at a vantage point. I speak to the young couple and also inform them that the gorges are closed and the mountains are impassable. So they too have to change their route.
Finally we reach the end of our excursion. At the end of a gorge, in which the stream is so high that it spills over the road, a police vehicle blocks the road. Now I'm really pissed and poor Su has to play lightning rod when James refuses to go to another gorge instead as it wasn't in the plan. Anyway, I'm simmering as we reach Ouarzazate again without having accomplished anything.
---
---
In search of food we stroll through the city in the dark. Finally, we get stuck at a small street kitchen that has a few types of meat on display. A few people are sitting around and staring spellbound at a television that has been placed under the open sky on a long cable. You're a bit surprised to suddenly see us as customers in front of you.
I guess a few things, Su does the same, and the chef gets to work. In the meantime I see that the Champions League match between Bayern Munich and Real Madrid is on TV. I'm thrilled because we saw the first leg in Granada, which Bayern won narrowly and drove Spain mad.
I ask and sit down with someone else at the table. My neighbor at the table is strangely amused when we just eat the fries with our fingers instead of our cutlery.
For once, I support Bayern in their international game, which our neighbor honors, as he seems to have bet on Munich against the cook, who is loudly cheering for Madrid. Happy about the additional support, the man orders a plate of lamb, bread and mint tea and keeps asking us to eat some of it. Even if we don't understand a word, the guy seems to be the owner of the small kitchen.
However, after Bayern left us in the lurch and we were stuffed, we said goodbye and thanked our football colleagues and trolled back towards our accommodation. The next day we will make our return to Spain and again take the bus across the Atlas and take a train from Marrakech to Tangier to catch a ferry to Europe.
---