---
Dear Diary
When I decided to travel through Iran again in 2020, I had one goal in mind: to visit and possibly climb Damavand. The 5600 meter high colossus is not far from Tehran. The trip did not take place in 2020 due to Corona and the chances are bad on this trip as well. We haven't been in the country long and on Noruz, family visits are a priority.
On one of the last days it works out, a time window opens and Siavash and his friend Saeid agree to a day trip to the north. Saeid owns a modern Toyota Prado and is happy to take the car for a spin.
---
---
Saeid collects us in Lavasan. From here it goes straight into the mountains. We wind the switchbacks up the mountains and pass through small villages whose majority of inhabitants seem to be made up of goats.
We climb a pass and I'm amazed at how busy it is here. A large shrine has been built here and hundreds of people make pilgrimages here for the holy place and the opportunity to play in the snow.
It is the Imamzadeh Hashem Shrine on the Cheshme-ye Khatun Pass and while Saeid and Siavash wait unimpressed but patiently in the car, I set out with my camera to explore.
---
---
The place is built like a small fortress. Walls and gates surround a square where there are numerous market stalls with food and religious trinkets. From here you can get to the mosque. As usual, there are separate entrances for men and women.
Again, numerous shops seem to be closed for the holidays, although I can imagine that the owners could have the highest sales of the year when all Iranians are off.
Even if I'm a walking foreign body, the believers meet me very friendly here and try to talk to me with a few words of Farsi and English.
---
---
---
Not far behind the pass the time has come: like a big heap of sugar, the cone of Damavand rises above the other mountains. Siavash tells me that the mountain's name from an ancient language means "the breath of the mountains". This makes sense as it is the tallest of all mountains and as an active volcano smoke and fumes are constantly escaping.
Lar National Park surrounds the entire area. We get closer and closer to the sleeping giant, where we really see the steam escaping from small cracks up close.
---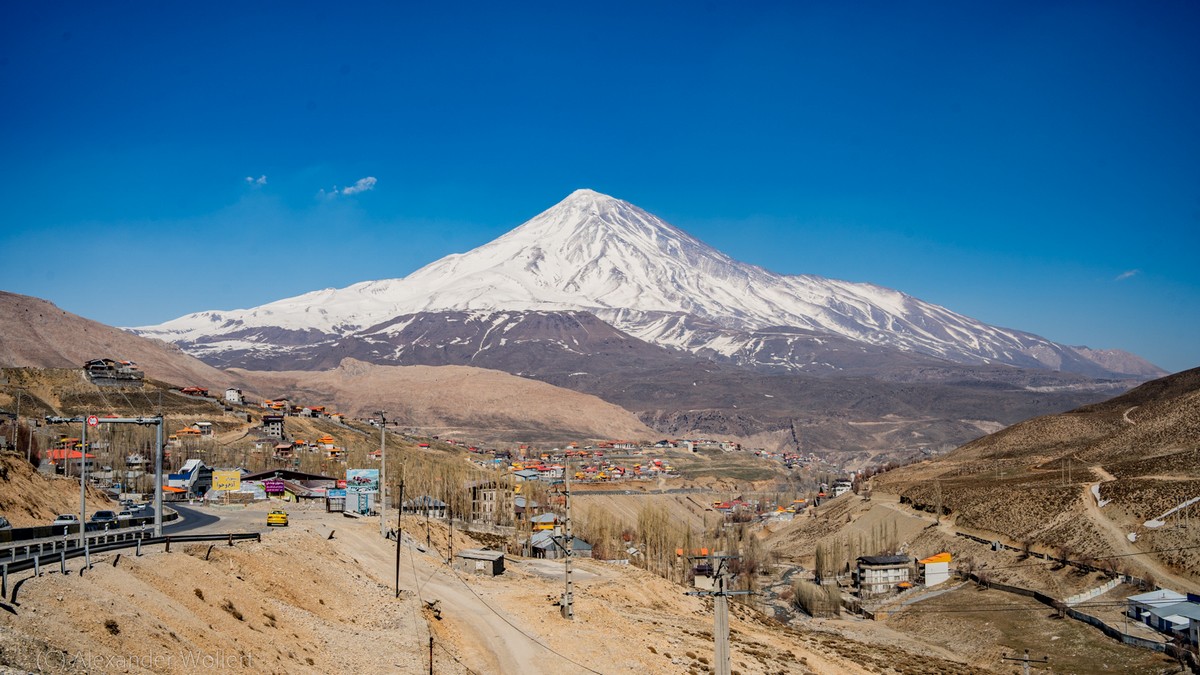 ---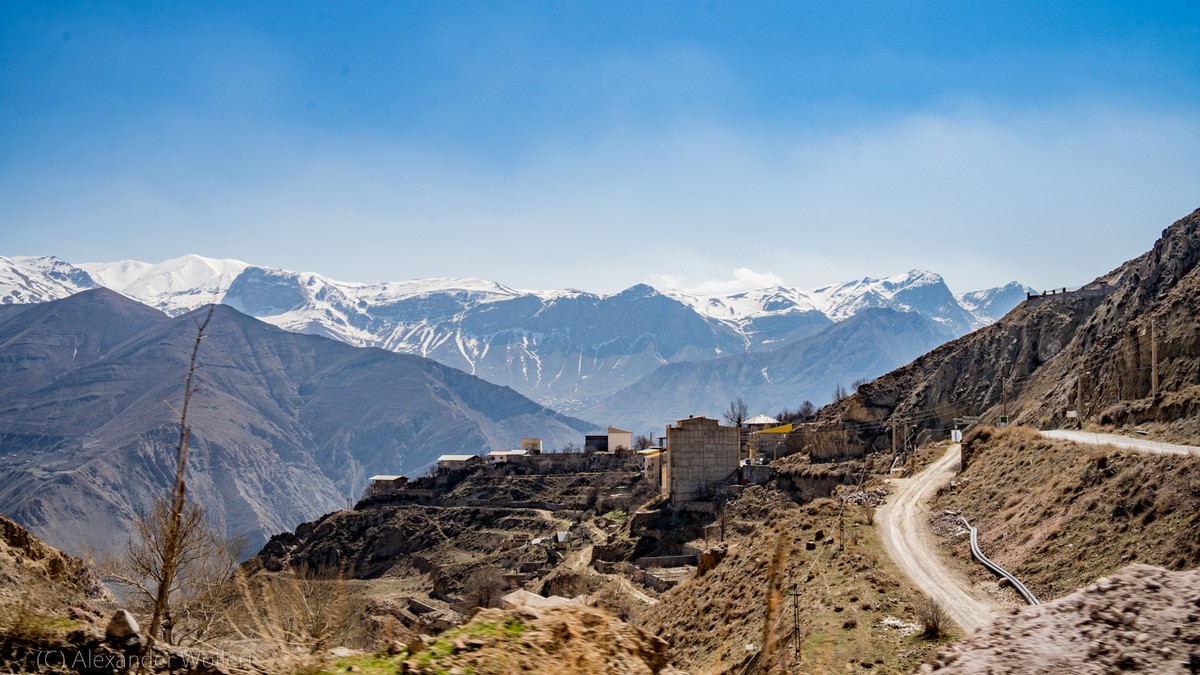 ---
Siavash suddenly has an inspiration and beams: "There is a fantastic kebab place very close here!" Saeid and I wonder where this is suddenly coming from, but Siavash insists that we have to go there and they have the best kebab there. We're hungry anyway, so we follow his orders. We only get lost twice, then we come to a small village. It doesn't look exactly touristy, more like most of the villagers' income comes from the work of their donkeys and goats, but there are still a striking number of shops and restaurants.
Saeid pulls up with the car directly in front of a grill, above which a motivated man with a classic mustache turns the kebab skewers and waves us into his shop. It's personable.
We sit down on a couch, without shoes of course, and in no time large layers of flatbread, kebab skewers and grilled tomatoes and onions fill the dining area. Siavash and Saeid are surprised when I order traditional dough to drink with them. Siavash has brought a flask with something special, which he's discreetly pouring out for us.
---
---
---
---
---
After the meal, Siavash shows us another special feature of the place. Each house has its own private hot pool from the springs of the volcano. Mixed with cold water you reach the comfortable temperature at which you want to cook.
I remember the onsen in Japan and realize it's the same thing here. Nobody can tell me whether they also cook eggs and vegetables (onsen tomago) here. It's an unexpected deja vú with my stay in Japan.
---
---
---