---
I decide not to return to Kugochi village because of the inconvenient bus connection. Instead, I walk the round way around Hongu that I would have missed, else. The Akagi-gae route, which is one part of the circle, is closed, but possible. Today I have very sunny weather and the forest is dry. The path leads me up the mountains and the smell of trees is amazing.
I can look into valley and over the next hills. It's a sea of forestry mountains.
Since the route is officially closed I'm all alone again. The path hasn't been used for a while, so I have to take care to destroy many spider webs that I would run into.
---
---
The reason for closing the route are the obvious damages caused by typhoons in the past years. Next to a lighter density of trees I encountered the impacts of landslides and pretty broken bridges, which wasn't a problem, because there wasn't much rain and water in the rivers lately.
In between you could think you are in Europe. But then you walk the forest of cedars and bamboo and walk through torii and along shrines. The villages you get through show very typical Japanese design and you can watch the people harvesting tea leaves.
---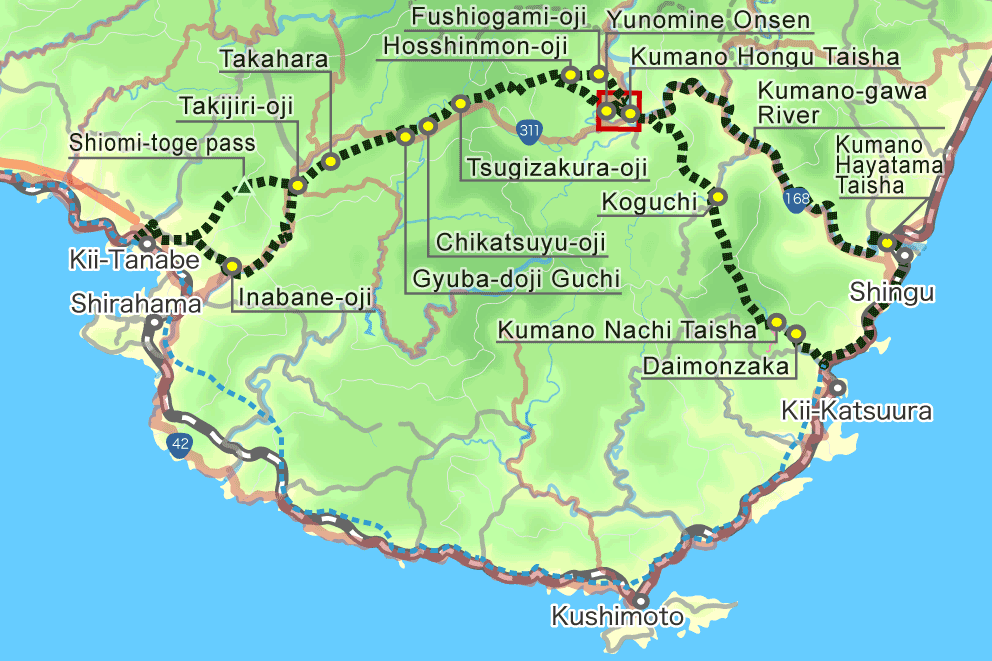 ---
At Hongu junctions I meet three very nice Canadians and for a short while a share my path and stories with them. Since I make a loop today I'm on the way everyone walks to get to Hongu. There is significantly more traffic and you pass by slower people or get overtaken yourself. I'm looking forward to walk on my own the next day.
I catch up with the Canadians later again later and at some point we walk together until we arrive at Hongu-Taisha, the main town of the Kumano Kodo with a huge shrine and a giant enormous gate (they call gates torii). It's the central pilgrimage destination, all pilgrim paths join at this place.
---
---
I meet the old man from the previous day again at the gate and he tells me that he walks there three times a day. He has got a baseball club and glove in his hand.
The Canadians head towards the bus stop since they want to get to Yunomine as well. I am entering the bus and meet them again.
---
---
This time I see the ride to Yunomine at daylight and it's a really beautiful way along rivers and valleys. Arriving at our destination I buy some eggs and introduce the others to the Onsen Tomago.
We share a nice dinner at night in the traditionally Japanese made up common room of our accommodation and make an appointment to meet each other a few days later in Osaka.