---
Diary Entry
I am sitting in Chian Khong at this moment as I write these lines. Today we have a very nice guesthouse with a view of the Mekong…
Today it rains for the first time, despite the rainy season according to the calendar. It's muggy. A light shower during the day – that can be endured.
---
The beginning? No.
A Beginning!
The year is 2004. This is my first trip to Asia. One of my first trips ever. For the first time in another culture. And my first and only trip I've booked. I'm twenty years old and hungry for the world. I had to do community service and have time before I start my studies at the university.
A trip for young, naive and adventurous people – like me!
I finished school last year and then traveled alone for the first time. It went to Canada. Now I seize the opportunity to travel again. It's supposed to be in a foreign culture and I'm very interested in Asia. My parents' friend, who works in a travel agency, recommended Vietnam to me.
The country is in transition and is opening up to tourists. It's still far from overrun with tourists. I like this idea. I don't like tourists.
The friend also suggests a travel agency that offers trips for naive and adventurous people like me.
Vietnam only recently opened its borders
The Australian agency Intrepid Travel offers tours in small groups and gives the young participants every opportunity to do whatever they want with a guide. I find the offer for a trip through the whole of Indochina, i.e. a round trip through Thailand, Laos, Vietnam and Cambodia. That sounds wonderful.
---
Eine Reise ins Ungewisse
I am organizing a flight to Bangkok to meet my tour group there. A journey into the unknown. A foreign culture. Foreign languages. Strangers. How will it be?
The day is quite nice, maybe a bit chilly. My flight isn't supposed to leave until around nine in the evening. My ICE is even too early – all signs of a trouble-free journey are good. I now know my way around Frankfurt Airport quite well and quickly put all the formalities behind me; except for the security detectors: the machines beep so long that I even have to take off my shoes. When even that doesn't help and I'm standing almost naked in front of the officers, it turns out that the aluminum paper on my chewing gum is also beeping.
While waiting for the flight I meet another amazing girl… Too bad she has to go to Kazakhstan. It's not a great day after all, because while the plane is already moving, the captain announces just before the runway that the take-off will be delayed by three hours due to the replacement of a part in the first engine…. Oh great… and then I have an annoying, extremely talkative old couple sitting next to me who I remind of their son…
I am landing at Bangkok Suvarnabhumi Airport. The wormy writing, which I can't decipher, greets me directly: ท่าอากาศยานนานาชาติสุวรรณภูมิ. That's the name of the airport in Thai.
The moderate temperature from the air-conditioned airport building changes abruptly and a hot and humid wall hits my face. A Thai man approaches me with a sign bearing my name. He welcomes me and gets me a taxi to the hotel where I am supposed to meet my companions. At first I don't get what he wants at all, because he tells me that my taxi is a gray Volvo. So I stuff my bags into the first gray Volvo I see. I gather from the Thai's wild gestures that it was the wrong one. Looking around, I also notice that every car here is a gray Volvo.
My first impression of Bangkok
When I'm finally in the right car and on my way, I have time to look around. First I notice that people are driving on the wrong side: in Thailand, traffic is on the left. The streets of the megacity Bangkok are packed with cars and tuk tuks and every vehicle tries to squeeze into any gaps that appear. Along the street are advertising banners from Japanese manufacturers as big as the houses they are attached to. A few car bridges lead over the houses, which gives me a brief glimpse of a panorama of the city. I see a big river somewhere and many skyscrapers.
The motto of Thailand:
Same same, but different!
Ich sehe Häuser in alle Richtungen, bis zum Horizont.
Mein Taxifahrer ist nicht gesprächig; er versteht kein Wort Englisch. "Very much traffic here, is it always like that?" – Hotel?" "No, the traffic,! Is it usual or just the rush hour after work?" – Hotel Viengtai?!?!?" Da kommen wir dann irgendwann an, in einer Seitenstraße, in welcher man vor lauter Verkehr nur im Schritttempo vorankommt. Fußgänger, Tiere, Tuk Tuks und Rikscha-Fahrer blockieren das Vorankommen. Links und rechts der Straße reihen sich Nudelsuppenstände aneinander. Ich drücke dem Taxifahrer hundert Baht in die Hand, das entspricht etwa 2,30€; das ist viel zu viel, aber dass weiß ich zu dem Zeitpunkt noch nicht. Hinter dem Auto schlagen sich schon drei junge Leute um mein Gepäck, welches der Sieger dann ins Hotel bringt. Der Rezeption sage ich dass ich hier meine Gruppe treffen soll. Man hat keine Ahnung, und sucht und sucht und stellt fest, dass die anderen zwar schon eingecheckt, aber nicht zuhause sind.
Ich lasse mein Gepäck an der Rezeption und verlasse meine sichere Burg, um die Straßen um das Hotel herum zu erkunden. Denn ich habe Hunger.
Es gibt Händler, die Kunst anbieten und natürlich auch Straßenküchen. Es herrscht ein Gewusel, wie ich sie aus Abenteuerfilmen kenne, in denen sich der Protagonist durch eine asiatische Stadt kämpft. Es ist laut, es ist chaotisch, hier steigt Dampf auf und alle Sinne sind überreizt. Ich bin wie elektrisiert.
---
---
When looking at the pictures, statuettes and other art objects, which I definitely want to buy and bring home, I immediately get to know the most important sentence in Thailand. Don't these two things look similar? Is this the same as this? While in Douglas Adams' book The Hitchhiker's Guide to the Galaxy, the answer to the universe's deepest mysteries is "42," in Thailand the answer is "Same, same, but different."
---
Thai curry – tasty but deadly
Two plastic chairs around a plastic table qualify one corner as a restaurant. I try my luck and sit down hoping to find something to eat as well. A small woman comes up to me confused and speaks a lot of Thai with me. Am I perhaps sitting in the wrong place here? I have no idea what she's saying. Yes, I understood one word! Curry! Yes, I want curry, I reply. "Curry?" – "Curry!" – "Curry?" – "Curry!" – "OooKeeee". She even brings me a cold beer first. That worked out well.
A moment later she comes back with a plate and two bowls. She puts the dishes in front of me and disappears again. What should I do? Sticky rice is steaming in one bowl, and yellow soup in the other, with a small, suspicious red chilli floating on the surface. Ah, I have to assemble the food myself. I pile the rice on the plate, spoon the curry sauce on it and enjoy it. A spoon. Cautious.
Then the fire alarms go off in my throat. Spicy. That's damn spicy! The sweat shoots out of every pore and runs relentlessly in rivulets from my face to my chin and drips in strings towards the earth. I must be a nasty sight. The cool beer disappears immediately. But I am hungry. Painfully I struggle down the dangerous rice. The curry is actually quite tasty, my body only has the impression that it is a thousand degrees hot.
I knew the food in Thailand is spicy. But not how incredibly spicy!
---
I return to the hotel and reception. Apparently my roommate is back with the key. I follow the hotel boy who grabs my luggage. Elevator, 6th floor. When he got to the door, he knocked, but there was no answer. Again no answer. The boy makes a helpless face, I frown. He apologizes with big gestures, goes back down the aisle and asks a cleaning lady. He comes back, apologizes profusely and knocks on the opposite door, which is immediately followed by a "come in". A young man my age opens. I meet the first of my companions. Glen is from Australia, works in the Navy and currently lives near Melbourne. We make friends right away. He tells me that the first meeting is at six in half an hour.
A good group. Together it will not be boring
We are also supposed to bring eighteen hundred baht for the visa to Laos. With a start I realize that I only have seven hundred in my pocket. Glen has been in Bangkok for a day and has already gotten to know something of the area. We leave the hotel and look for a bank; he babbles like hell, but I'm having trouble getting used to the English language again. Unfortunately, the bank closes in front of me. But the employees still show me the way to an exchange office. There I can exchange one of my Traveller's Checks and receive my money.
Geld im Ausland?
Traveller's Cheques!
---
The meeting takes place in an empty hotel room with a few chairs. The group consists of ten people.
Two sisters are from Toronto, Canada. Nicki has traveled a lot, and she wanted to take her sister Jenna with her on this trip to Indochina. Both are pretty, twenty-three and twenty-one. Nicki bears an enormous resemblance to Julia Roberts, only her mouth is narrower. Jenna is white blonde. Both have a special fondness for headscarves. The two often split off from the group when it comes to rare communal meals or when we want to go to the beach.
There are two Scottish friends from Aberdeen, Euen and Kevin, both twenty-three. Kevin looks sporty, at home he is a construction worker. Euen is more of a prime example of a Brit: slightly misshapen, with pale skin and bright red hair, a hydraulic engineer by trade. Both are extremely enthusiastic about football and are looking forward to the 2006 World Cup in Germany. With an unintelligible Scottish accent, they add a lot of fun to our trip. Of course, they come to the meeting with beer in hand and are immediately interested in the two Canadians.
Becky is from New Zealand. She's very cheeky, twenty-six. I don't learn much about her.
---
I'm the only one in the group who doesn't speak English as a first language.
Jane is the stereotype for every British lady and has a wonderful English accent, looking like a lady from an Agatha Christie novel. I also often call her Lady Jane, which she accepts, amused and flattered. At the age of thirty, the Londoner is already the second oldest (but you can't tell by looking at her).
Only Brian is even older. The New Zealander comes from near Christchurch and at the age of sixty-four already has a special role in the group. But he integrates brilliantly, even if he remains a weird old bugger. He fits the Kiwi cliché perfectly, because his profession is… Sheepshearer!
Mia is from Brisbane, Australia. She's a saleswoman and twenty-one; she is quite reserved, in the "still water" direction, like myself.
Our "Leader" is the Australian Ian. The good-humoured guy, slightly overweight and with little hair, organizes the trip for the international group. I later find out he's Glen's uncle. A week later, the rest of the group noticed that too. Ian is a funny Aussie who's been living in Southeast Asia for a long time and seems to know everyone but is a bit hardy. During our pub cures he will be an example of solid drinking. Even totally drunk he will find his way back to the hotel.
---
The route through Indochina
Then Ian gives us a detailed overview of the route we will follow:
We start here in Bangkok and take an overnight train to the north of Thailand to Chiang Mai. From there it goes to the border with Laos, which is formed by the great river Mekong. There we will board a dragon boat and take it down the river to the town of Luang Prabang. After a few days stay we take a plane to the capital Vientiane. From there we will take tuk tuks to the Vietnam border and there we will take a vehicle that will take us to the capital Hanoi.
In Vietnam we travel to Halong Bay and along the length of the country south, through the royal city of Hue and the coastal city of Hoi An to Ho Chi Minh City. By land and river, go to the capital of Cambodia, Phnom Penh, and from there continue to Siem Riep to visit Angkor Wat. We've got plans. We will stay in simple lodges or hotels. This is not a luxury trip. On site we can decide for ourselves what we do, Ian will give us tips and organize what we want.
---
On the evening of my arrival in Bangkok I still have no plan. The city is gigantic. I'm taking Ian and Glen to a great restaurant that Ian enjoys going to. It's an unassuming eatery that you'd miss while strolling the streets. It has a small entrance and a few chairs and tables to sit outside. We enter the restaurant, it's eight o'clock. It's already pitch dark outside. A waitress leads us to the top floor, which we have completely to ourselves. We have to take off our shoes beforehand.
There are no chairs, just cushions around a raised tabletop. Singha Beer and Fried Noodles with Pork, the standard. But tasty. And above all: Thai cuisine is spicy.
I've already noticed that with the curry. The room is quite small but cozy.
After we have finished our meal we go to a bar; we sit outside and watch life on the streets; In no time at all, dealers who want to sell us all sorts of stuff come along. Glen buys a shopkeeper's hat off her head, a weird shapeless thing with all sorts of chains and beads on it. It doesn't suit him at all, but he's having fun with it.
---
---
This city is a mighty juggernaut that moves slowly, its heart and arteries constantly beating. Bangkok doesn't sleep. Only the color of the sky changes. At night, the city offers a constant display of illumination.
Khao San Road is legendary
I can clearly feel the tiredness from the journey and want to go back to the hotel. Ian recommends that I go via Khao San Road, a busy street in Bangkok's nightlife. I follow his directions and after a ten-minute odyssey through lanes and alleyways I'm on a street that's as busy as any pedestrian zone at the time of the summer sales and is also made even more unsafe by scooter riders.
"Ladyboys" in flashy clothes offer their company and traders let you taste their exotic fruits. It blinks and flashes, chatter and bad music resounds from bad loudspeakers from all sides.
Many women approach men, but most of these women are not women at all.
The house facades trumped each other with colorful neon signs, there were bars, shops, music and noise everywhere. The hustle and bustle caught me immediately.
Khao San Road in Bangkok is a legendary street known for its lively and colorful atmosphere. It is a popular meeting point for travelers from all over the world and offers a wealth of entertainment options. The street is buzzing 24/7 and offers a variety of activities, including sampling local delicacies, shopping for souvenirs or experiencing the lively nightlife. A true backpacker's paradise, Khao San Road is a place to experience authentic Bangkok.

Khao San Road
---
---
The next morning we leave the hotel at nine o'clock in the morning and follow Ian through the streets, past insane tuk tuks and apparently blind motorcyclists, through small hidden streets to the main pier of the traffic ships.
Between busy streets, high-rise buildings and traffic, the Chao Phraya river system suddenly opens up and instead of cars, people here travel by boat. Traders, buses, taxis or families drive in small, long motor boats.
Occasionally they have to dodge tree branches or coconuts floating on the surface of the water. Even "street" signs mark the city's canals.
We rent a small boat and take a tour of Bangkok to get an overview. We pass noble houses, temples, shabby huts, small coconut palm groves in the middle of the city and high-rise buildings… but all with their own dock. The Scots are filming for me in stages with the camcorder that I brought with me for this trip.
The city is like a huge anthill. Scooters, tuk tuks and cars ruthlessly crowd the streets. It seems like chaos to me, but it seems to be working.
---
Tuk tuks and boats dominate traffic in the megacity
---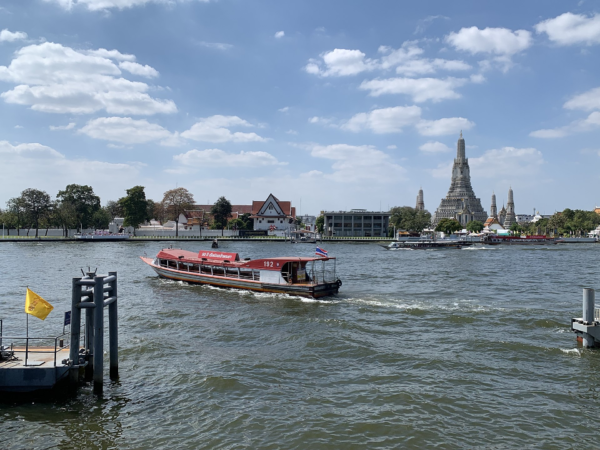 ---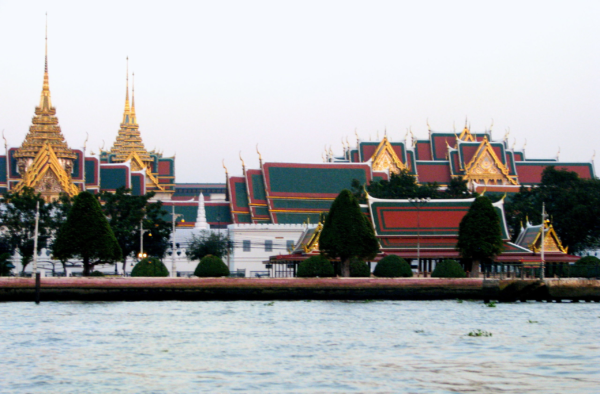 We also visit the old town. The Grand Palace พระบรมมหาราชวัง is unfortunately closed to visitors due to Queen Sirikit's birthday celebrations, but at least we can see it from the outside. But we can visit the temple complex of Wat Po. The largest Buddha in the world has gone to sleep there. Countless pilgrims make their requests to the massive statue made of gold.
We take a guide who shows us the area. The walls are decorated with images from the life of Buddha. There are small bowls into which you have to throw coins to get good luck. In front of the temple entrances there are small swimming pools with lotus and small fish, and small bonsai trees line the stairs and walls.
---
---
It's the Queen Mom's birthday
---
As the wife of King Bhumibol Adulyadej, also known as King Rama IX, she played a significant role in Thai royalty. Queen Sirikit was valued for her elegance, intelligence, and social engagement. She was actively involved in the well-being of the Thai people, particularly in promoting education, culture and traditional crafts.

Queen Sirikit of Thailand
---
In the modern skyline of the new town you will also find winding streets full of small shops or street kitchens between the glass palaces, shopping centers and McDonalds. It smells of garbage and delicious food. It smells of exotic spices and stinks that you have to choke.
The food in the street kitchens tastes better than in any restaurant, but numerous flying insects crawl between the meat and vegetables and here and there a cockroach darts from one dark corner to the next. Presumably these are the secret ingredients that are missing from the food in the restaurants. Perhaps.
At the end of our stay in Bangkok we make our way to the train station. Thailand does not have a large rail network, so the train station is not particularly crowded. The beautiful building bears witness to the art of the past century of combining steel and industry with aesthetics.
Before I leave, I explore the train station a bit more. A few guardsmen make it clear that criminals don't stand a chance here. A few pictures of the royal family adorn the station concourse. Those waiting eagerly follow the television program on a huge flat screen.
On the night train to Chiang Mai
We board the night train and find our bunks. The journey lasts all night. Only in the morning we will reach our next destination, Chiang Mai. When we've just settled into the bunks, which have a curtain that allows for some privacy, and I'm about to go to bed, Kevin comes running up excitedly. "There's a disco on the train," the Scot exclaims excitedly. Great, then we'll go to the bar and have a drink.
---
The "disco" consists of a darkened open-plan car, a small bar, tables and benches, is only illuminated with a little colored light and loudly plays a loop of seven pop songs that you can even dance to within a few square centimetres.
There is a disco on the train
It starts off harmlessly with a few beers. Then Kevin pours everyone whiskey. Then another. And one more.
We're emptying the train's entire whiskey supply
Apparently only the Scot and I drink. He lifts the bottle, I nod, he pours. I raise the bottle, he nods, I pour. This goes on until I ask why he doesn't pour more. "That was the last bottle" replies Kevin. Alright. time to go to sleep
---
---
It's only when I get up that I realize how drunk I am. The fact that the train and wagons are constantly moving doesn't help either.
Drunk on the night train – a very bad idea
I'm so incredibly sick. While I spend most of my night in the disgusting train toilet, the others joke that it's better not to have a drinking duel with a Scot.
---
---
---
I wake up the next day just before we reach Chiang Mai. So I still have enough time to pack my things. I don't feel so bad after all the night was awful. At some point I fell asleep.
Hey, I'm fine again!
All step onto the Chiang Mai train platform. Everyone except Kevin. "Where's Kevin?" asks Ian. Finally the Scot comes with his luggage and staggers down the stairs. Then he gets on his knees and throws up on the asphalt. A grin covers my face.