Our awesome South America Adventure Camping Van
We started: Leon, Sara and I on a journey through South America. With a stopover via Sao Paolo in Brazil, it goes to Asuncion in Paraguay. From there we start our tour with a converted camper across the continent.
This is an old Toyota Hiace from 1996.
It is still in good shape and is getting an update from us both inside and out for a trip off the beaten track and suitable for a small family. In addition to a new interior, a larger kitchen and additional batteries and tanks, it also received a roof rack, solar panels with the corresponding power distribution in the car and larger tires. The more precise specifications can be found here.
Dusty is For Sale!
---
---
---
The Toyota Hiace 1996 3.0 diesel special edition with a high roof and 4wd, bathroom, and kitchen is a versatile and reliable vehicle that offers a comfortable and convenient camping experience. This classic van is well known for its durability and toughness, making it an ideal choice for off-road adventures and long-distance travel.
One of the highlights of the Hiace special edition is its high roof, which provides ample headroom for standing and moving around inside the van. This makes it easier to prepare meals and move around comfortably in the living space. The high roof also allows for additional storage space, which can be useful for longer trips.
The 4wd feature of the Hiace is also a highlight, as it allows for more versatility when exploring rough terrain and off-road adventures. With the added grip and traction, the Hiace can navigate through challenging terrains with ease and provide a smoother ride.
The inclusion of a bathroom and kitchen in the Hiace is another standout feature. The bathroom includes a toilet, shower, and sink, providing a level of comfort and convenience not found in many other campervans.
The kitchen is equipped with a stove, sink, and refrigerator, allowing for the preparation of hot meals and the storage of food and drinks.
The Hiace special edition is also known for its spacious interior, providing plenty of room for comfortable sleeping and relaxation. The interior can be customized to fit individual needs, making it an excellent option for extended camping trips.
Another highlight of the Hiace special edition is its fuel efficiency. The 3.0 diesel engine is known for its reliability and long lifespan, while also providing excellent gas mileage. This allows for longer trips without worrying about fuel costs and refueling stops.
Overall, the Toyota Hiace 1996 3.0 diesel special edition with high roof and 4wd, bathroom, and kitchen is a remarkable vehicle that offers a unique camping experience. Its durability, versatility, and convenience make it an excellent choice for those who enjoy off-road adventures and extended camping trips.
€ 35,000
---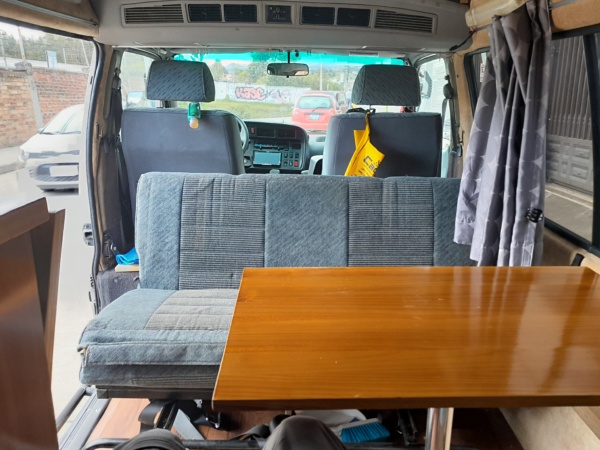 ---
CAR & ENGINE:
· Toyota CRUISING CABIN with Toyota factory built fiber glass high roof
· 39.500 € (TBD)
· AUTOMATIC transmission
· ~150.000km on sale (km!)
· 1kz-te 3.0 TURBO diesel 4 cylinder (Hilux engine)
· Toyota Hilux rear limited diff
· 4WD
· Air condition
· 2 seats front, 5 seats in the back
· Stock Cabin heater
· Steel water tank under the car
· Additional 500W heater (portable)
· 2000W power inverter
· New radiators (2x): 138.000 km
· Full oil service, new filters, checking brakes and suspension: 146.000 km
· 5x new SUNSET P235/75R15 109T All Terrain tires 29'': 138.000 km
· New T-Belt: 138.000 km
· New radiator fan clutch: 142.000 km
· New cylinder head gasket: 142.000 km
· New air filter: 142.000 km
· New coolant: 142.000 km
· New thermostat: 142.000 km
· 1x spare air filter, 1x spare oil filter
________________________________________________
INTERIOR:
· The entire cabin was upholstered with real cow leather
· Curtains between cabin and driver & curtains for side windows
· 2x mosquito windows that can be attached
· 12 socket & 2x USB chargers in kitchen
· 3x wardrobes for luggage
· Side wardrobe to quickly store things
· Ambient lightning with remote control to switch between 100% and 50% light mode
· The seats can function as bed
· The high roof can be used as bed at the same time
· Passenger seats foldable to have table and seats or to be a bed
· Attachment for GoPro-Dashcam behind windshield
________________________________________________
OUTDOOR MODS:
· 4x flexible SOLAR panels (front, roof), 100W each
· 2x auxiliary batteries, 150ah each
· Renergy charge controller with built in DC to DC charge controller
· Steel Ladder to roof
· Running boards
· Custom aluminium roof rack
· 4x extra front lights for fog: 2x Hella, 2x Bosch
· Bull bar
· UP LIFT 2''
· Extra large custom tank (~ 140 liters) under the car, protected by an extra steel case
· Sun awning
· Shore socket for charging power from external source for long, rainy days
________________________________________________
KITCHEN:
· built in sink
· 12v water pump
· water heater
· fridge
· freezer
· portable camping stove
· storage cabin
· Roof fan for cooling/steam extraction
________________________________________________
BATHROOM:
· Shower
· Water proof cabin
· Water exit
· Sink
· Storage cabin
________________________________________________
EXTRAS:
· Tool box (Black & Decker)
· Drill machine/Battery screw driver
· Fire extinguisher
· Emergency triangle
· Did a well job on the Death Road
· Lots of scratches on the back door
· Camping table & 2 chairs
· Cutlery, camping plates etc.
· Pillows, blankets, etc.